Membership has its privileges! By registering to become a member of QCC, you will receive the following features:
Before you register, spend some time in the room as a guest...see if Quick Chat Cafe is right for you!
To register, click the "Create a new user account..." link (example shown below)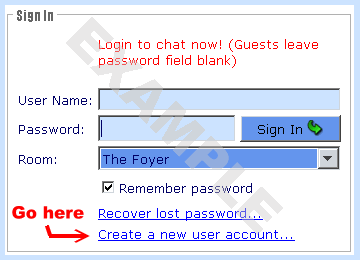 at the main chat login screen. A valid email address is required, as you will be sent a code necessary to activate your account. This email address will not be sold to other companies. It will only be used for verification purposes, and to communicate with you regarding your account.
Keep in mind that your membership may be revoked if you choose a user name that is particularly offensive or hateful. QCC is not the place for that sort of thing, and we ask you to respect this. We may also limit the number of registered names per user, and names that do not contain recognizeable words (i.e. only punctuation).