Quick Chat Café - Help and FAQ
First of all, make sure that you have Java enabled in your browser. If you have an older computer, you may need to upgrade your Java version here.
If you are getting an "Invalid Username or Password" message, try using a different name. Many names are taken by registered members, and some are not allowed. Make sure the name uses letters and/or numbers, and try removing any punctuation.
If you have registered a user name with QCC and have forgotten your password, use the "Recover lost password..." link on the main page to recover it.
Also, be aware that popup blockers may interfere with some functionality of this site, like when clicking links on the login screen or from within the chat. There are no pop-up ads on the Quick Chat Cafe site, so you can feel secure in whitelisting your blocker for quickchatcafe.com. Note that if you DO see popups appearing on this site, they are likely the result of AdWare/SpyWare running on your computer.
QCC makes use of cookies for convenience features, such as remembering your user name and some of your settings on your next visit. Make sure you have cookies enabled for the best experience at our site!
Other common problems, such as a chat that won't load or missing images, can be remedied by doing one or more the following. If the first item doesn't fix the problem, try moving on to the next.
Reloading/refreshing the chat page
Closing and reopening your browser
Clearing the cache (temporary files) in your browser
Clearing the cache in your Java console

If still can't get in, consider that you may have been locked out by a site administrator. We regret that this is sometimes necessary to preserve the community spirit of this site. If you think this has happened to you, we suggest you find a more appropriate place to chat.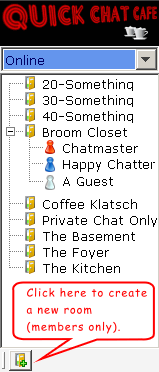 On the right hand side of the main chat display area, you'll see the user and room list. Several icons will help you know who's in the rooms, and what's happening.
Here is a list of the symbols you'll see, and what they mean:
| | |
| --- | --- |
| | This is a guest, or a member who has yet to verify their email address. |
| | This is a QCC Member, who may also be a room monitor. |
| | This is a QCC site administrator. |
| | This is a QCC monitor. |
| | This is used for all chat rooms, public and private. |
| | This indicates a user is away from the computer. |
| | The message balloon indicates another user is sending you an instant message, a.k.a private chat. |
| | The shield shows you have ignored another user. |
| | A flashing button indicates the user is typing. |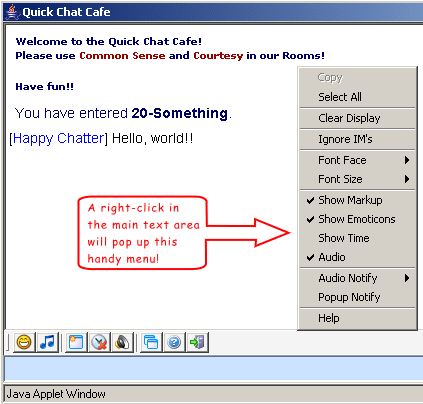 The main chat display region is where messages appear have been sent to the chat room. All users in the room will see the same messages.
You may copy and paste content from the display by selecting the text with your mouse. Right click anywhere in the display region to view a menu allowing you to copy text, clear the display, set font size & style, and much more. Explanations for items whose functions aren't apparent are provided below:
Ignore IM's: Ignore all incoming instant messages
Font Face & Size: Here you may set the font style and size used in the main display. Other users will not see the setting you have chosen
Show Markup: Enable or disable special markup, including text colors and BBCode.
Show Time: When selected, every public message will indicate the time it was received.
Audio: Enable or disable sounds from being played.
Audio Notify: Play a short message when a public message is received.
Popup Notify: Popup a small window indicating when someone has entered a new message.
Note that many of these features will be remembered next time you visit QCC. If you find you aren't getting any instant messages (private messages), check and make sure that "Ignore IM's" isn't checked.


Near the bottom of the chat window, these buttons allow you easy access to certain functions. Your toolbar may vary, depending on your membership access level.
| | |
| --- | --- |
| | Text color selector. (Members only) |
| | Marks up text as bold. (Members only) |
| | Marks up text as italic. (Members only) |
| | Brings up the emoticon/smiley popup selector. |
| | Brings up the audicon/sounds popup selector. |
| | Clears the screen (panic button!) |
| | Enables and disables the timestamps by each message in the main chat display area. Enabling timestamps is good for a slow room, but takes up more space on the screen. Timestamps are disabled, by default. |
| | Toggles sound on and off. |
| | Floats the chat window independently of the browser window, allowing it to be positioned and resized for convenience. |
| | Brings up this help page in a new window (you will not lose the chat). |
| | Exits the chat gracefully. |
A shortcut to typing someone's name is just to single-click on their name in the main chat display (not in the user list). When you post another chatter's name exactly, it will appear in a different color to them, and will sound a short alert tone (assuming they have audio turned on).


If someone is bothering you, just right-on on their name in the user list, and select "Ignore." It's a lot easier than getting into an argument.


If the chat is slow during an off-peak time, stick to The Foyer. This room is where most people will enter the chat. Also try enabling your audio so you'll hear people come into the room.


Typing /a before your message creates an "action message," such as "[MyName] waves to the room."


Using the float/dock function will allow you to maximize the chat window to fill your entire screen, or to size it any way you like. Just make sure that you do not close the web page you launched from, or else you will be logged out.


Don't overuse smileys and sounds. Sometimes, less is more.
This is a great feature of QCC, which, unfortunately was also one of the more abused functions in the past.
Instant messages allow you to open a private chat window with another chatter. No one but you and your chat partner can see the conversation, and the window disappears completely when you both log off.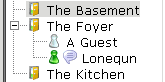 In previous versions of QCC, the private chat window has opened automatically whenever another user sent a message. This could be very distracting and annoying, so we have implemented a different method. Whenever someone sends you a private message, you'll see a little message balloon next to their name in the User List. Double-click on their name if you wish to accept, and the window will open. Ignore it, and nothing will happen.
When you have a private chat window open, you can still chat in the main room, and the conversations are kept separate. When you're done with the private chat, just close the window.
As a matter of etiquitte, it's a good idea to ask someone you don't know before requesting a private chat.
If you wish to chat privately for an extended period of time, it is highly recommended that you move to a less crowded room (other than The Foyer), so it's less likely that others will try to engage you in public chat.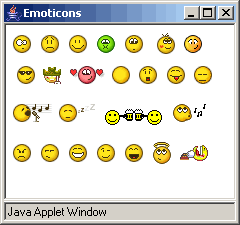 Emotions, or smileys, as some people call them, may be accessed in several ways. There are hundreds of these little conveyors of emotion available for your use in chat, with several ways to call them up. Clicking on the

button on the toolbar will bring up a popup window that includes a sampling of available emoticons. A single click will add the appropriate trigger text to the input area, and sending it will make the smiley appear in the main chat window, along with any text you type.
Alternately, you can select emoticons by right-clicking in the text input area, or just manually typing in the trigger text.
For your convenience, a complete chart of emoticons is provided here.
If you're missing some of the emoticon images, try the troubleshooting steps in the "Help, I can't login!" section above.
Yes. I have chosen a limited number of volunteers to assist in keeping disruptive elements in the chatrooms to a minimum. I have asked them to be as professional as possible in the decisions they make in removing chatters who do not honor the QCC Creed of "Common Sense and Courtesy."
If you have kicked out of the chat by a monitor, chances are that you were doing something that bothered other chatters, such as using language that wasn't appropriate for the company or flooding the room with nonsense. If you try back later, you may find that the removal was only temporary. Be forewarned that repeated disruption will result in more permanent bans, and also in removal of any member privileges.
Keep in mind that we don't WANT to kick people out of QCC. There are many ways to avoid this, including moving more risque chat to private rooms, and just generally being polite.
Generally, the answer to this question is "no." I've found that the people who want most to monitor chatrooms are generally doing it for the wrong reasons. Currently, the only way to be chosen as a monitor is by personal referral.
With your support, they are what allows QCC to exist now, and for years to come! We have tried hard to make the ads as unobtrusive as possible, and of a nature that is of interest to our site visitors. There are currently no popup ads on QCC, and we try to keep the "annoyance factor" to a minimum.
I am an Internet marketing consultant for various businesses in the United States, and I have a few website properties of my own. Quick Chat Café is one of these. QCC has been in existence for well over ten years, and I have owned it since around early 2000. The site had been abandoned for some months at that time, and I made a concerted effort to rebuild the traffic and the community. This push had marginal success, due in part to a very high hosting cost and high-maintenance software. Also, my other business ventures left little resources to focus on a site that just wasn't making self-sustaining. That initial effort finally ended in February of 2004, when the expensive server crashed.
After learning of the crash, I did what I could to keep an active (though much simpler) chat running at QuickChatCafe.com. This pretty much continued until early 2008, when I found myself with what I believe is a better formula for success. The new incarnation of QCC is what you see here...and I hope you like it!